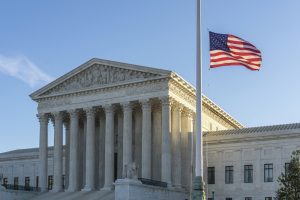 Response to Supreme Court Ruling on Religious Freedom
A Clarifying Ruling and Statement
On Thursday, June 17, 2021, the Supreme Court delivered a historic unanimous victory for religious freedom on ruling that the City of Philadelphia violated the First Amendment by refusing to contract with Catholic Social Services (CSS) because it would not place children with same-sex couples. The Court ruled that Philadelphia cannot discriminate against religious foster care agencies based on their fundamental beliefs about marriage and sexuality.
This Supreme Court ruling is very helpful in clarifying how individuals and organizations with differing beliefs and convictions can civilly coexist and maintain their constitutional rights.
As our culture accelerates in declaring and exercising its differences, the natural result is a conflict or clash of values. How can two people who have opposing beliefs, views, and convictions both maintain their legal rights and still not be considered discriminating merely because they think differently? Up until now, this common scenario has been very complex and divisive. Thanks to this ruling, we now have a more clear understanding of how civil liberties and religious liberties can coexist simultaneously and not be considered discrimination.
Clarifying Factors
Our communities have a serious broken family problem that's creating an increasing number of foster children.
There is an urgent need for loving parents to step forward and temporarily foster these children in need.
Religious freedom permits Christian individuals and organizations to embrace God's design and definition of a family as a married couple (one man and one woman) or a single individual (man or woman).
A Christian foster care agency that holds a biblical conviction that the ideal parents to foster children are intact, healthy, married couples (one male to one female), or an unmarried single man or woman, can lawfully only license foster parents that meet this requirement.
Anyone who does not meet this requirement is still able to foster with an agency that does not share this religious conviction.
A Clear Conclusion
As a result of this clear ruling, West Florida Foster Care Services will continue to specifically recruit, train, license, and support Christian parents that meet the biblical definition of marriage or singleness. We will continue to support all of our existing foster families in our ongoing commitment to encourage and lift up those who are caring for our precious foster children.
Purposefully, seeking to honor God, serve children in need, and maintain a loving witness in our community,
Kevin Miller
WFFCS Executive Director